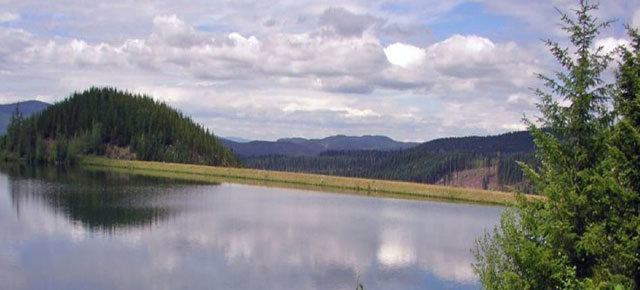 SUMMARY/REPORT OF THE AWARDS SUBCOMMITTEE
2008 Presentation of the 2007 Mine Reclamation Awards
2008 Mine Reclamation Awards Presented at the 32nd Annual Mine Reclamation Symposium
September 17, 2008, Kamloops, British Columbia
Download/view award presentation (6.5MB PDF)

INTRODUCTION
The Technical and Research Committee on Reclamation celebrated more than three decades of excellence in mine reclamation practices in the Province of British Columbia.
Thirty-two years ago, the British Columbia Technical and Research Committee on Reclamation established a Reclamation Award to recognize outstanding achievement in mine reclamation in British Columbia. In addition to this major award, citations are given to recognize merit in mining reclamation.
The work on which the awards are based may be major or minor in extent, and may be the result of a group or a single person's activities. These awards may recognize:
quality in research,
innovation in techniques,
quality of work undertaken,
extent of land reclaimed, or
work of a high standard that has been conducted over a number of years.
For work conducted in 2007, the Committee received 5 excellent nominations in 4 categories. The presentation to the winners occurred at the 2008 Symposium. Download/view award presentation (6.5MB PDF).
ANNUAL JAKE MCDONALD MINE RECLAMATION AWARD
The recipient of the 2007 British Columbia Jake McDonald Mine Reclamation award was Inmet Mining Corporation for their outstanding reclamation achievements at the Samatosum Mine.
The Samatosum Mine is located 60 kilometers north of Kamloops near the town or Barriere. Samatosum is an open pit massive sulphide mine that produced silver, gold, zinc, lead, copper and antimony for 4 short years between 1989 and 1992. Disturbance at the site includes a small open pit, a 32 hectare waste rock dump, a flooded tailings impoundment, several borrow pits and a plantsite area.
Samatosum and Inmet Mining have learned some lessons the hard way. The site has the unfortunate legacy of being a producer of acid rock drainage. However, since 1996 and the issuance of a pollution abatement order, Samatosum and Inmet Mining have come a very long way in taking their responsibilities for environmental stewardship seriously.
This began with the installation of a drainage collection and water treatment system. These systems were later upgraded to include an expanded surge pond to increase storage capacity, installation of an HDS lime treatment system, improvements to water management, and equipment automation and remote monitoring to reduce environmental risks and ensure that permitted water quality objectives are consistently met.
Inmet Mining has truly embraced a culture of proactive management, risk reduction and continuous site improvement, and this culture is applied to worker safety, the community and the environment.  A large number of management systems have been put in place for the Samatosum Mine including an Environmental Management and Procedures Manual, an Operations and Surveillance Manual for the tailings dam, an Emergency Preparedness and Response Plan, a daily safety risk identification system, a Contractor Management checklist, as well as other corporate-wide standards initiatives.  Samatosum has also achieved excellence in the areas of crisis management planning, tailings management and external outreach, as evidenced by three very recent performance awards from the Mining Association of Canada.
As part of a company-wide risk assessment and risk reduction process, Inmet identified that a steep section of the dump at Samatosum had the potential to be a long-term stability risk.  As a result, Inmet voluntarily chose to proactively reslope the lower waste rock dump, even though it was already successfully reclaimed.  A total of 3.4 hectares of the dump was resloped in 2007 and will be completely re-seeded by the end of this month.
In the 16 years since mine closure, the revegetation efforts at the site have been hugely successful.  Native soils were salvaged and replaced after mining and a variety of species were planted, including cottonwood, Douglas-fir, spruce, aspen, sitka alder, buffaloberry, prickly rose and red-osier dogwood.  The last fertilization on the site was conducted in 1997, and now the majority of the mine possesses extensive re-establishment of native plant species, diverse wildlife habitats, and clearly self-sustaining plant communities.  Reforestation corridors have been established on the main waste rock dump.  These consist of native tree and shrub species which have been augmented with rock and woody debris piles in order to provide habitat and structural diversity.  Colonizing species of grasses, forbs and shrubs are evident throughout the planted corridors.
Overall, the reclamation activities and on-going environmental management programs at the Samatosum Mine are exemplary, and set a high standard for the mining industry.  Brent Hamblin accepted the 2007 British Columbia Jake McDonald Mine Reclamation Award on behalf of Inmet Mining Corporation.
2007 COAL MINING CITATION
The Citation for outstanding achievement for reclamation at a coal mine was awarded to Elk Valley Coal Corporation for its work on the North Refuse Dump at the Line Creek Mine.
The North Refuse Dump covers approximately 60 hectares and contains coarse coal refuse that has been deposited since 1982.  In advance of dump development and expansion, topsoil was salvaged and stockpiled for later use in reclamation.  Progressive reclamation on the dump began in 1987, however, reclamation efforts were significantly accelerated in 2004 when the dump reached its final designed capacity.
The dump was re-sloped, almost 60,000 cubic meters of topsoil was replaced and rapid revegetation was implemented to prevent and control erosion.  A wide variety of innovative reclamation techniques were utilized to provide a diversity of wildlife habitat.  These prescriptions were based on reclamation research conducted at the site and collaboratively with other Elk Valley coal mines.  Some of the highlights include:
planting roughly 6000 native trees and shrub seedlings, with a wide variety of species including lodgepole pine, hybrid spruce, trembling aspen, rose, snowberry, Saskatoon and several others species mechanized planting of almost 1000 large native trees of various species, using plant protectors to prevent browsing, using cottonwood staking to promote rapid establishment of deciduous species, and using helicopter and  ground based seeding techniques for forage mixes, and for fertilization to ensure early establishment of high-quality food for wildlife.
Line Creek also have an on-going program of monitoring and reclamation enhancements, such as a noxious weed control program, to ensure productivity goals and reclamation success are achieved.  Early indications are very good that Line Creek should achieve productivity goals with a relatively rapid integration of this dump feature within the surrounding landscape.
Line Creek has done an excellent job in promptly reclaiming the North Refuse Dump utilizing a wide range of innovative techniques.  Tim Chala accepted the Citation for outstanding Coal Mine Reclamation at Line Creek Operations on behalf of Elk Valley Coal Corporation.
2007 MINERAL EXPLORATION CITATION
The Citation for outstanding achievement for reclamation at a mineral exploration site was awarded to Sego Resources Inc. for their work on the Miner Mountain property.
The Miner Mountain property is located 4 kilometers northeast of the town of Princeton.  The region is prospective for porphyry copper-gold deposits similar to the former producing Similco or Copper Mountain Mine.  Previous work on the Miner Mountain property dating from the 1960's and 70's left a legacy of unreclaimed trenches that scarred the landscape and was visible from town.  As well, the surface rights are privately held by local ranging interests who actively use the site as grazing land and the unreclaimed areas posed hazards for cattle.
In September of 2007, Sego Resources completed a Memorandum of Understanding with the Upper Similkameen Indian Band that supports the band's principles of environmental stewardship, economic sustainability and self-determination.  In the spirit of the MOU, the Upper Similkameen Indian Band has operated as contractors for the Miner Mountain project supplying equipment and expertise to conduct reclamation and new exploration work.
In total, more than 3200 metres of historic trenching has been filled in, and revegetated with excellent results.  This reclamation work has been a win-win situation for all involved.  The reclamation work has been welcomed by the ranching interests who have acquired additional grazing opportunities, and Sego Resources has achieved support of the private land owner in accessing lands for exploration purposes.  As well, the Upper Similkameen Indian Band has benefited by becoming active partners in the reclamation and exploration programs.  And the final beneficiaries are the cattle who have far more productive land on which to graze.
 
The success of this reclamation program is a testament to the benefits of co-operative working relationships.  J. Paul Stevenson, Chief Richard Holmes and Bob Dennis accepted the reclamation Citation for Mineral Exploration on behalf of Sego Resources Inc.
2007 SAND AND GRAVEL CITATION
The Citation for outstanding achievement for reclamation at a sand and gravel operation was awarded to Emil Anderson Construction Co. Ltd. for their reclamation work at the Norm Ross Pit.
In 2006, Emil Anderson Construction was awarded a contract by the Ministry of Transportation to upgrade the remaining section of highway 97C (the Okanagan Connector), from two lanes to four.  The expansion work involved grading, gravelling and paving an 8.5 kilometer section between Garcia Lake and Courtenay Lake.  The closest known borrow source was located 22 kilometers away from the construction project, and so in an effort to shorten haul distances and improve economics, Emil Anderson Construction investigated nearby lands for suitable gravel deposits.
Their search lead them to a 4 hectare section of privately owned land adjacent to the highway, on which Norm and Colleen Ross operate a horse farm.  The land consisted of several partially treed fields, with terrane ranging from flat to steeply sloped.  An agreement was struck with the Ross's to develop a gravel pit, and then reclaim the property to a condition suitable for horse grazing.
Emil Anderson Construction cleared the remaining trees and then salvaged and stockpiled the organic growth medium for later use in reclamation.  After mining was completed, surplus gravel material was used to re-contour the property and the growth medium was replaced.  Using agricultural rock-picking equipment, a significant effort was made to remove rocks larger than 5 centimeters from the top 15 cm of soil.  The entire site was then hydroseeded with a mix that incorporated the Ross's desired grasses for horse grazing, including a mixture of several types of wheatgrass and fescue.
The mining operation and reclamation work provided the Ross's with flatter, more usable fields with better vegetation and revenue from the gravel sales, and Emil Anderson Construction benefited from improved economics of a greatly reduced haul distance.
The Norm Ross gravel pit was a small, focussed project that was developed and reclaimed quickly and successfully.  Bruce Miller accepted the Citation for excellence in Sand and Gravel reclamation on behalf of Emil Anderson Construction Co. Ltd.
LAST YEAR'S WINNER
It is an annual tradition to present a "keeper trophy" to last year's recipient of the British Columbia Mine Reclamation Award, for the safe return of the coveted "jade trophy".
Last year's winner of the Award was BHP Billiton Diamonds Inc. for outstanding reclamation efforts at the Island Copper mine.  Scott Johnsen accepted the "keeper trophy" on behalf of BHP Billiton Diamonds Inc.
2008 TRCR Members
Back row from left to right: Bob Hamaguchi, Highland Valley Copper; Barb Riordan, Thompson Creek Mining Limited; Bob Hart, retired BC Environmental Assessment Office; Kathy Pomeroy, Western Canadian Coal Corporation; Kim Bittman, Teck Cominco Limited; Peter Jarman, retired BC Ministry of Environment; Carol Howell, retired BC Ministry of Energy, Mines and Petroleum Resources; Carla Fraser, Elk Valley Coal Corporation; Art O'Bryan, retired BC Ministry of Energy, Mines and Petroleum Resources and Symposium Venue Coordinator; Wendy Gardner, Thompson Rivers University and 2008 TRCR Chairperson; Craig Stewart, BC Ministry of Environment; Brian Chapman, BC Ministry of Environment;

Front row from left to right: Diane Howe, BC Ministry of Energy Mines and Petroleum Resources; Todd Wambolt, Gibraltar Mines Ltd. and Incoming 2009 TRCR Chairperson; Brenda Dixon, Natural Resources Canada; Gavin Dirom, Mining Association of British Columbia; Mark Freberg, Highland Valley Copper; Kim Bellefontaine, BC Ministry of Energy, Mines and Petroleum Resources.
2008 Tour
Highland Valley Copper Reclamation Tour and Workshop Brochure