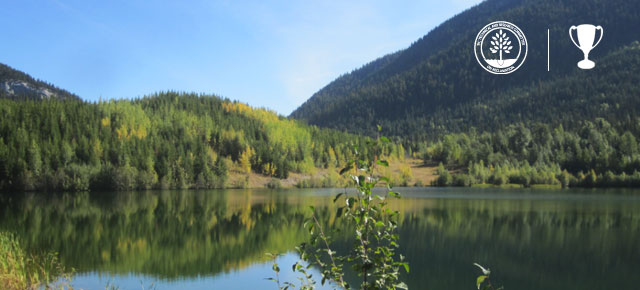 SUMMARY/REPORT OF THE AWARDS SUBCOMMITTEE
2012 Presentation of the 2011 Mine Reclamation Awards
Presented at the Reclamation Symposium Awards Banquet
September 17, 2012, Kamloops, British Columbia
View / Download: 2012 News Release; Award Presentation
INTRODUCTION
Thirty six years ago, the British Columbia TRCR established a Reclamation Award to recognize outstanding achievement in mine reclamation in British Columbia. In addition to this major award, the committee may also recognize reclamation successes through category awards for metal mining, coal mining, sand and gravel, quarries, placer mining and mineral and coal exploration.
The awards may recognize work of major or minor extent, and may be the result of a group of people or a single person's activities. These awards are assessed based on:
quality in research
innovation in techniques
quality of work undertaken,
extent of land reclaimed
work of a high standard that has been conducted over a number of years.
This year the awards committee, comprising Kim  Bellefontaine, Ministry of Energy, Mines and Natural Gas, Craig Stewart with the BC Ministry of Environment, Angela Waterman with the Mining Association of BC and Wendy Gardner with Thompson Rivers University, chose to give five awards of the 8 nominations in 5 categories that were received.  The committee commended the efforts to date and looks forward to seeing future nominations from these and other sites that describe continued efforts and reclamation results.
ANNUAL BRITISH COLUMBIA JAKE MCDONALD RECLAMATION AWARD
The recipient of the 2011 British Columbia Jake McDonald Mine Reclamation Award was Tsolum River Partnership for their outstanding reclamation achievements at the historic Mount Washington Copper Mine.
The Mount Washington Mine was a small open pit copper mine located on central Vancouver Island that operated during the mid-1960's. Following bankruptcy, the site was abandoned and pyrite-bearing waste rock began to generate acid rock drainage high in copper. The Tsolum River originates on Mt Washington and was impacted to the extent that a large salmon fisheries resource, valued at over $2 million per year, was virtually eliminated due to the copper leaching. The Tsolum River Partnership brought together resources and expertise from provincial and federal agencies, community groups, industry, NGO's and a private landowner who worked together with the goal of restoring the Tsolum River fisheries resource.
Although early remediation efforts were made in the 1980's and 90's, they resulted in very little reduction in copper levels. In 2003 a wetland was established to passively treat water downstream from the mine area, it was successful in reducing copper levels by 40%, however there were concerns that this was not a viable long-term solution given the likelihood that the wetland would become less effective over time. Focus shifted back to remediating the source of the copper. Studies identified runoff from the North Pit, and associated in-pit waste rock dumps, as the key contributors to acidic drainage and copper loadings that were eventually reaching the Tsolum River.
Following an announcement of funding from the Ministry of Environment and Ministry of Energy and Mines, remediation activities were completed between 2008 and 2011.
Initial work on the site revolved around earthworks and site preparation. The access road required major upgrades to meet Mines Act regulations. A borrow pit was developed to provide buttressing and bedding material, an upgrade to an existing diversion ditch above the pit was completed and a series of underdrains were installed around the site to collect and route seepage from the highwall and groundwater. The underdrains were constructed using a combination of geosynthetic drains and rock drains. All seepage collected by these drains is conveyed to a central manhole where flow monitoring and sampling can occur and then discharged to the seepage collection pond.
 Then the entire pit area was lined with a bituminous geomembrane liner and soil cover. To facilitate placement of the liner the pit wall was buttressed with compacted till to a 4:1 slope and all waste rock was also regarded. A till bedding layer was placed in preparation for liner installation and to avoid exposure of the liner to any angular surfaces.
Over 12 km of 4mm thick bituminous geomembrane liner was installed according to manufacturer's instructions and then a 50 cm thick layer of compacted till and loose soil was placed over the liner for both protection and growth media. Throughout construction, thousands of truckloads of till and soil were moved onto the site.
The final liner cover was sloped to promote drainage to surface drains constructed using rip-rap lined channels. Soil placement and distribution of woody debris across the surface was completed during 2010 and 2011 and final site revegetation was completed in 2011.
Approximately 7000 seedlings and cuttings were planted across the 3.3 hectare area using red alder, Sitka alder, mountain alder, Sitka mountain ash and willow. Each of the seedlings was planted with a 10 g fertilizer tablet and planting sites were selected to take advantage of rough and loose soil preparations. Additionally, the entire site including roads and trails was seeded using the Mt Washington high elevation seed mix, which is a mixture of native grasses, fescue and clover plus Sitka alder and fireweed seed.
In 2010, following completion of liner installation, water quality monitoring indicated that water leaving the site showed a 77% decrease in copper loadings. These trends were also confirmed during 2011 sampling. Intensive water quality monitoring is still being conducted and results show that the Tsolum River fish community is beginning to recover.
 This large-scale reclamation project was the result of a unique partnership that involved many people and agencies working together to produce a very impressive result. I should also mention that this group won a Premier's Award in 2011 in recognition of their successful partnership. The Tsolum River Partnership continues to work together and with the community and there are plans underway to continue building a salmon enhancement program and develop a trail system in the lower reaches of the Tsolum River watershed.
John Deniseger (MoE), Wayne White (Tsolum River Partnership), and Diane Howe (MEM) were called forward to accept the 2011 British Columbia British Columbia Jake McDonald Mine Reclamation Award on behalf of the Tsolum River Partnership.
2011 PLACER RECLAMATION AWARD
The award for outstanding achievement for reclamation at a Placer Mine was presented to Eli Christiansen for the Douglas Property.
 From 2003 to 2009, Mr. Christiansen and his partner worked the Douglas Property placer claims, which straddle Douglas Creek near Terrace. They were conscientious in conducting their activities and have had a good compliance history throughout operations.
 In 2009, placer mining at the property concluded and the site was reclaimed. Although this property is small and the reclamation activities were small in scope, the work completed is deserving of recognition and sets an example of good practice for other placer operations throughout the province.
Reclamation efforts included re-contouring disturbed areas to blend with the landscape, placing available topsoil on exposed gravels to assist in revegetation and constructing a small rip-rap erosion protection field on the sloped area above Douglas Creek. In addition to removing all the equipment associated with the placer work, a piece of equipment located on the claims but unrelated to placer activities was also removed. In photos of the site from 2012, the reclaimed area shows successful natural growth of alder and small fir trees that are native to the area.
 Mr Christiansen was commended for his responsible and sustainable attitude to the business of placer mining. Anne Moody accepted the award for outstanding Placer Reclamation on Mr. Christiansen's behalf. The miners were applauded in the Terrace Standard newspaper on December 5 (Terrace Standard_Miner receives award).
2011 SAND AND GRAVEL RECLAMATION AWARD
The award for outstanding achievement for reclamation at a sand and gravel operation is awarded to R.E. Postill and Sons Ltd. and the Coldstream Ranch Ltd. for the Rosebush Pit located near Vernon.
 Mining in this area, which is in the Agricultural Land Reserve, commenced in the 1970's and has covered an area of approximately 60 hectares. To date, approximately 40 hectares have been reclaimed by this fourth generation family operation. The reclamation program being carried out for this site involves a working partnership between the pit operators and the ranch that owns the land.
 When mining in each area is complete, clean fill from the Vernon area is used to bring the mined area back up to surface grade. Prior to being moved on site the fill is tested to ensure no contamination and then visually assessed when it arrives on site. The majority of the fill being used is of native origin. The clay-rich fill is placed to minimum depths of two feet and levelled to the surrounding grade. The clay of the fill content aids water retention in these newly reclaimed areas, which is critical for future farming operations in this arid climate and a vast improvement over the very well drained gravels that were extracted. Soil is placed on the filled areas at depths of 30 to 45 cm and levelled. Following soil placement, operators of the Coldstream Ranch complete final soil preparations to suit their needs, and plant their desired crops.
 Most recently reclaimed areas have been planted with a grass and alfalfa mix and are being used as pasture for cows and horses as well as harvested for hay and silage for winter months. The Coldstream Ranch has reported that reclaimed lands are showing consistent productivity and the land capability has been improved from Class 4 Agricultural Land to Class 2, meaning that they are capable of producing a wider range of crops and the land poses no major management difficulties.
 The Rosebush Pit is demonstrating success in reclaiming land and improving its end land use capability for farming. R.E. Postill and Sons Ltd. and Coldstream Ranch Ltd. are praised for their work to ensure the area is being mined in a sustainable manner. The working relationship between the ranch and the pit operators is to be commended.
A multigenerational group was called forward to accept the award for outstanding Sand and Gravel Reclamation at the Rosebush Pit; Jamie Postill, Linsey Postill, Brian Postill and Laurie Postill of R.E. Postill and Sons Ltd., and Keith Balcaen of Coldstream Ranch Ltd were called to accept the award.
2011 INDUSTRIAL MINERAL RECLAMATION AWARD
The award for outstanding achievement for reclamation at an industrial mineral operation is awarded to Quinto Technologies Inc. for the Lumby Mine.
 The Lumby Mine is a historical small underground operation dating back to 1900. In 2009 it changed ownership and the decision was made to completely reclaim the site. The site had previously been abandoned prior to reclamation, with buildings, debris piles and mining equipment that required removal and clean-up. The site also had two small tailings storage ponds, two partially accessible adits, a waste rock dump and an ore stockpile that required attention.
 Following an investigation of the site and testing for metals and other chemicals, a closure plan was developed and implemented. Reclamation commenced and was completed in 2011 with the removal of batteries, ballasts and special wastes by HAZCO. Mining equipment was salvaged and buildings were demolished and removed, with care being taken to separate recyclable materials.
 The tailings ponds were backfilled using fill created from breaking up the concrete building foundations and then material from the pond's berm material was used fill in the remaining depressions. The ponds were then covered with till and soil and revegetated. The adits were also backfilled to prevent future access and the surrounding areas were re-sloped and revegetated. The one remaining waste rock dump received 20 truckloads of topsoil, which was spread across the dump and revegetated. Remaining ore, amounting to 87 truckloads, was purchased and removed by a third party. The site is scheduled for ongoing monitoring over a three year period.
 The conventional reclamation completed for this site represents a solid effort to clean up a messy site and prepare it for closure. The site now appears stable and vegetation is starting to become established. On behalf of the Lumby Mine, Susan Ames was called to come forward and accept the award for outstanding industrial mineral mine reclamation at the Quinto Technologies Ltd. Lumby Mine.
2011 METAL MINING RECLAMATION AWARD
The award for outstanding achievement for reclamation at a metal mine is presented to Gibraltar Mines Ltd. for work at the Gibraltar Mine.
 The Gibraltar Mine is an open pit copper and molybdenum mine located in east-central British Columbia near Williams Lake. Mining activities at Gibraltar began in the early 1970's. The mine has approximately 1000 hectares of disturbance to be reclaimed to end land uses of wildlife habitat, forestry and seasonal livestock use. Progressive reclamation has commenced at the site, focusing to date around the main dam of the tailings impoundment and one of the waste rock dumps. The learnings from previous revegetation efforts across 50 hectares of waste rock dump are being applied to better plan future reclamation work.
 2011 marked the beginning of several large-scale reclamation research trials that will be continued throughout the life of mine and used to help set the stage for future reclamation planning. The main tailings dam has been the focus of these trials. The dam surface is approximately 61 hectares and the trials are focusing on a 17 hectare area. To date, this area has been resloped and covered with a 50 cm thick till cap. Following till placement the area was modified for erosion control by layering wood chips, native shrub planting and direct seeding.
 The use of wood chips as a cover material is being tested to assess there effectiveness as an alternative to till, which is not as readily available in the volumes required to cover the entire dam area. The goal of wood chip placement is to stabilize dam slopes, reduce wind erosion and provide moisture and protection for native shrub planting, which is being tested as an alternative to seeding with a grass mixture.
 Research is also being completed, in partnership with the Ministry of Forests, Lands and Natural Resource Operations and Terraforma Environmental Ltd. to assess the effectiveness of direct seeding of pine trees using mycorrhizal fungi to establish growth on waste rock dumps. The study is testing the theory that the symbiotic relationship between the mycorrhizea and pine will increase the trees' tolerance to drought and extreme conditions. Prior to seeing the waste rock dump test area was capped with overburden and then mycorrhizae-innoculated pine seeds were dispersed in November 2011. Germination assessments are now underway.
 A pilot-scale engineered wetland has also been established to monitor capabilities of treating the tailings pond supernatant to an acceptable discharge quality. Pending water quality results, the mine will be assessing the feasibility of incorporating a larger-scale constructed wetland into plans to treat excess mine site water.
 Gibraltar has also initiated a native seed and berry collection program, which to date, as collected black cottonwood, trembling aspen, willow, Saskatoon, soopallallee and raspberry. All seeds are sent away for cleaning and propogation and are planned for use on site during 2013 and 2014 shrub planting programs. The site itself also has a fenced area for growing native shrubs and trees on site. The plants in this nursery area are grown to heights of greater than 1.5 m prior to planting in hopes that this will minimize the impacts of browsing.
 In addition to the research trials, progressive reclamation is occurring in areas of the site including deactivated roads, ditches and portions of waste rock dumps. Reclamation work is being completed with the assistance of a local reclamation crew from the Xats'ull First Nation.
 Work at the Gibraltar Mine is demonstrating a forward-looking approach to reclamation that will set the stage for future reclamation successes. They are commended for the work being done to review previous reclamation efforts, as well as for initiating large-scale trials to assess innovative methods for reclaiming large areas of the sand dam and waste rock dumps. I would like to encourage reclamation staff to continue with this good work and look forward to seeing the results of these various efforts in coming years.
 Jordan Evans and Steve O'Hara were called to come forward and accept the award outstanding Metal Mine Reclamation at the Gibraltar Mine, on behalf of Gibraltar Mines Ltd.
LAST YEAR'S WINNER
Last year's winner was Northgate Minerals for outstanding reclamation achievements at the Kemess South Mine. Northgate demonstrated a strong ongoing commitment to achieving reclamation success, and has set a benchmark for reclamation efforts at BC mines. Solid results at this site directly reflect the innovative and hard work by reclamation staff.  Harold Bent was called forward to accept the keeper trophy on behalf of Northgate Minerals.
2012 TRCR Members
2012 Tours
Samatosum Mine