2016 Mine Reclamation Awards:
On September 20, 2016 at the 40th Annual Technical and Research Committee on Reclamation in Penticton BC, the TRCR presented the 2015 Mine Reclamation Awards and 2016 Jake MacDonald Student Scholarship award winners.
Kim Bellefontaine reported that last year, due to the incorporation of the Reclamation Symposium with the 2015 Mine Closure Conference in Vancouver, the Annual Mine Reclamation Awards were presented at the December Board of Directors meeting for the Mining Association of British Columbia instead of at an awards banquet like this one. Most of our regular symposium participants were not able to attend this event, and thus we thought a short recap of last year's winners was definitely in order.
The 2014 Metal Mine Reclamation Award was awarded to Huckleberry Mines Ltd. for its habitat compensation works in the form of successful remediation of fish-ways in a local creek in the vicinity of the Huckleberry copper mine near Houston, BC. Huckleberry was also recognized for engaging local Aboriginal communities in its mine reclamation planning.
The award was presented to Hiroyuki Tarumi (President), Randall Thompson (Chief Operating Officer), and Marke Wong (Environmental Superintendent) of Huckleberry Mines Ltd. Marke Wong was there to receive applause.
Last year's winner of the 2014 British Columbia Jake McDonald Mine Reclamation Award was Valley Gravel Sales Ltd. for outstanding reclamation achievements at the Valley Gravel Mine. The Valley Gravel mine operation is located on Huntingdon Road in Abbotsford BC, within the Agricultural Land Reserve.
The final result of reclamation activities was a uniformly graded field with gradual slopes and high quality topsoil that represented a significant improvement over pre-mining conditions. To confirm that reclamation would be successful, additional soil surveys and soil chemistry analyses were completed to assess the quality of the reclaimed area. The information has demonstrated that the agricultural land capability was greatly improved. Prior to mining, only 40% of the area had a Class 3 agricultural capability rating, and subsequent to reclamation, more than 77% of the land area is now classified as Class 2 and Class 3.Barry McLean (Chief Financial Officer) with Valley Gravel Sales Ltd. accepted the 2014 British Columbia Jake McDonald Mine Reclamation Award for the Valley Gravel mine, and accepted the keeper trophy.
2015 Mine Reclamation Awards
The recipient of the 2015 British Columbia Jake McDonald Mine Reclamation Award is Thompson Creek Metals Company Inc. for outstanding reclamation achievements at the Mt. Milligan Mine. The Mount Milligan Copper-Gold mine is located halfway between Mackenzie and Fort St. James, in central British Columbia, approximately 150 km northwest of Prince George. The Mount Milligan project underwent several separate phases of mine planning and feasibility assessment over a 15 year period, including two separate environmental assessment processes.
During those reviews, and in response to concerns from First Nations, regulators and other stakeholders, the original 1993 mine design was significantly modified in several key ways to reduce the mine footprint by more than 1300 hectares; a roughly 48% reduction in mine footprint to its current 1229 hectares of disturbance. This reduction resulted from the relocation of the tailings storage facility as well as the realignment of the tailings dams to avoid key fish habitat. It also confined most of the mining activities and associated infrastructure to a very tight footprint within the King Richard Creek watershed. Although the modified mine design resulted in many positive changes for the project, including the avoidance of impacts to many sensitive habitat areas, the project was still going to impact approximately 9.5 hectares of stream habitat due to construction, infrastructure and alteration of the natural flow regime. So this required the development of an extensive fish habitat mitigation and compensation plan. key component of the habitat compensation plan was the construction of three large overwintering ponds, covering roughly 3 ha of new habitat. Significant studies on substrate conditions, hydrology and habitat were completed before beginning the work. For the construction activities, Mount Milligan partnered with local company, Duz Cho Logging, which is owned by the local First Nation, the McLeod Lake Indian Band.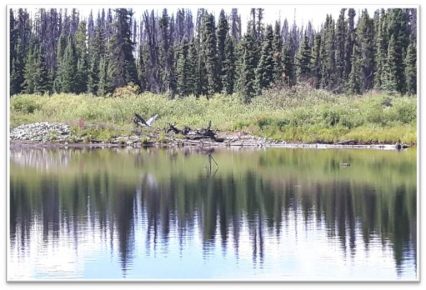 The Jake McDonald Mine Reclamation Award for work completed in 2015 was presented to Wes Chingee (Environmental Technician and member of the McLeod Lake Indian Band) and Daphne Hall (Environmental Advisor), both with Thompson Creek Metals Company Inc .for work completed at the Mount Milligan mine.
The full awards report and presentation is available at this location: Recipients
Jake McDonald Scholarship Awards:
This year, Wendy Gardner, chair of the TRCR Scholarship Committee and TRCR member from Thomson Rivers University presented the Jake McDonald Scholarship Awards to three very deserving recipients.
Katie McMahon is in the Master of Science program in the Faculty of Forestry at UBC. She worked in the Environmental Department at the Mount Polley Mine for approximately five years and now is working on her master's research which is to test and apply terrestrial reclamation methods that promote redevelopment of soil microbial communities and networks, and in doing so improve vegetation establishment, soil development and ecosystem resiliency. Katie is presenting a paper at the symposium titled "Mount Polley Mine August 2014 Tailings Dam Embankment Breach – Response and Approach to Remediation".
Marika Green  is an undergraduate student at TRU in the Bachelors of Natural Resource Science program. Her area of interest is in reclamation/restoration and for her undergraduate research project she is following up on a previous master's student project looking at treatments (raking/ hydroseeding combinations) on native grass and forb establishment at New Afton mine.
Paul Antonelli is in the Masters of Science in Environmental Science program at TRU. He has presented at the TRCR as an undergraduate student and has acted as a student volunteer several times in the past. His masters research in on using soil amendments and nurse crops to restore native grassland on tailings site. Paul is presenting a paper at the symposium titled "Growth Response and Metals Uptake of Native Bunchgrasses during Organic Amendment-Assisted Phytostabilization of Alkaline Mine Tailings".
The award winners are also highlighted at this location: 2016 Student Scholarships.