37th Annual Mine Reclamation Symposium:
2013 A Great Success
Download the TRCR RELEASE Mine Reclamation Awards 2013-09-19 and the BC Government release:  Reclamation of historic mines recognized
Highlights
The 2013 Mine Reclamation Symposium was held for the first time in Vancouver at the Sheraton Wall Centre Hotel downtown.  From September 16 to 19th the Symposium included a jam-packed program beginning with an afternoon workshop on September 16th on the subject of Biodiversity,  on September 17th, a full day field trip to the Lehigh Sechelt Sand and Gravel Mine on the Sunshine Coast,  on September 18 and 19th, presentations of (23) technical papers, with (16) exhibitors on hand to discuss their services and products. A catered luncheon was held on September 18th with the usual Awards Banquet that evening with presentations of last years keeper trophy and (2) 2012 reclamation awards presented to the company representatives by Dave Nikolejsin, Deputy Minister of BC Ministry of Energy and Mines. See our Awards page for more information on the winning programs. Attendance was excellent with  (215) delegates, (21) sponsored First Nation participants, (6) BC elementary school teachers who use the Mining curriculum for K to Grade 7 and (6) post secondary student helpers. Listings of the exhibitors, contacts and their websites and the First Nation Attendees are found below. We thank our many Sponsors which included; at the Gold level:  New Gold, Silver sponsors:  AMEBC, MABC and Stantec with Bronze sponsors:  Hemmera, Teck, EcoMetrix and Taseko Mines. Friendship sponsors included:  AMEC, ACP Applied Products, and EDI Environmental Dynamics.
Supplier and Consultant Exhibitors: 2013 Exhibitors.
First Nation and Community Registrations: 2013 Sponsored First Nation Participants
AGENDA
Monday September 16:  Biodiversity Workshop

Led by Ben Chalmers of the Mining Association of Canada, 5 hour Workshop, began with training on how the MAC Toward Sustainable Mining program addresses Biodiversity and Conservation Management, followed by a presentation from Donald McLennon, Canadian High Arctic Research Station on the Biodiversity Management Systems at Canada's National Parks; a case study on a biodiversity management program for exploration presented on behalf of Avalon Rare Metals; a presentation from Robert Hanner from Guelph University on the Bar Code of Life, and another case study on biodiversity management from New Gold's New Afton mine presented by Luke Holdstock that included, among other initiatives, their experiences with the Bar Code of Life.
Tuesday September 17: Lehigh Operations, Sechelt Sand and Gravel Mine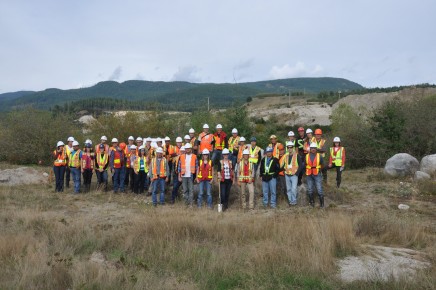 Sechelt Mine, the winner of the 2009 BC Jake McDonald Mine Reclamation Award and the 2012 Mining and Sustainability Award was the focus of the 2013 field tour. The Sechelt Mine, located on BC's beautiful Sunshine Coast, is operated by Lehigh Hanson Materials and is one of the largest sand and gravel mines operating in Canada. The fieldtrip focused on the innovative reclamation approaches in place at the site including proactive mine planning to address community concerns, wetland establishment and development, creation of wildlife corridors, progressive reclamation using biosolids and the creation of a poplar tree plantation on a former sedimentation pond. The strong partnerships developed with the Sechelt Indian Band and the local community were also highlighted. The day was capped off by a cultural performance by the Sechelt First Nation in their beautiful Long House and a buffet dinner in the Sechelt Indian Band Hall.
Tour Photo Gallery
Wednesday and Thursday (Sept 18 and 19th): Technical Papers
The Symposium Technical Papers were presented over two days at the Wall Centre hotel. The Symposium Agenda with list of papers and authors are provided here in the  2013 Booklet.
Wednesday, September 18: Reclamation Awards Banquet
An evening of great food, camaraderie and reclamation recognition was held at the Annual Awards banquet.
Prior to the reclamation awards, thanks were given to a long time Symposium coordinator and TRCR member, Carol Howell.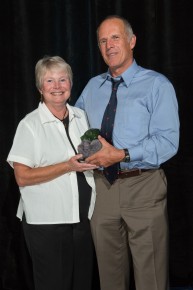 Bill Price, NRCan presented a special jade carving to Carol for her years of tireless work organizing and shepherding the TRCR for each Symposium for the last 20+ years.
Awards Banquet 2013

Along with the keeper trophy for safe return of the Jade Award for the 2011 winner of the Tsolum River Partnership, on this night, two reclamation awards for 2012 programs were presented by Kim Bellefontaine and Dave Nikolejsin, Deputy Minister, BC Ministry of Energy and Mines to recipients that showed Outstanding Achievements in 2012 in the reclamation categories of Metal Mine Reclamation and the Overall BC Jake MacDonald Mine Reclamation Award. The awards are detailed on the Awards Page.
The TRCR Committee for 2013 are shown here: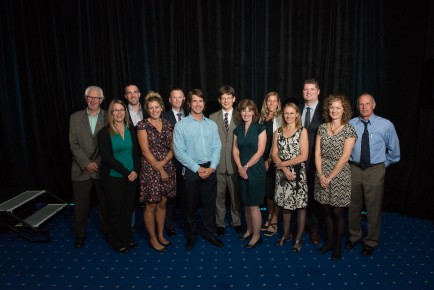 (L-R) TRCR Committee: Dirk VanZyl, UBC; Carla Fraser, Teck Coal; Darren Cowan, Hillsborough Resources; Jaimie Dickson, Highland Valley Copper and 2013 Chair of TRCR; David Ewing, MABC; Ryan Todd, New Gold and 2014 TRCR Chair of TRCR; Jonathan Buchanon, AMEBC, Kim Bellefontaine, MEM; Wendy Gardner, Thompson Rivers University; Kim Bittman, Taseko Mines, Ben Chalmers, Mining Association of Canada, Tania Demchuk, MEM; and Bill Price, NRCan.
Missing: Nicole Pesonen, Walter Energy and Vice Chair of the TRCR; Craig Stewart, MOE, Todd Wambolt, Gibraltar Mines, and Angela Waterman, MABC.