The BC TRCR Committee is pleased to announce that the action-packed hybrid virtual and in-person Symposium in Kimberley, BC from September 18 to 21, 2022 was a great success.
A press release: Newsrelease2022 was sent out to media, announcing the winners of the the Mine Reclamation Awards, Scholarships and Best Paper from 2021.
To begin, a keeper award for the safe return of the Jade award was presented to the 2021 winner, Centerra Gold and Chu Cho Environmental.
Seabridge Gold Inc. is the recipient of the Jake McDonald Annual Mine Reclamation Award for its work at the past-producing Johnny Mountain mine. "Seabridge Gold has shown great leadership in its ongoing efforts to reclaim an inherited site with a high level of Indigenous nation support and involvement," says Tim Antill, outgoing chair of the TRCR and chair of the awards subcommittee. Between 2016 and 2022, Seabridge Gold's subsidiary Snip Gold Corp. has worked to return disturbed lands and anthropogenic landforms to their original land use and capability of alpine tundra wildlife habitat. The environmental and reclamation activities completed at the Johnny Mountain Gold Mine are recognized because of the timely implementation of the site reclamation activities, and for the Company's commitment to work with Indigenous partners to ensure all site environmental and reclamation activities, which are on the traditional territory of the Tahltan Nation, have both Indigenous input and approval.
Copper Mountain Mine (BC) Ltd. is the recipient of the Metal Mining Category Award for its channel realignment of Wolfe Creek and implementation of fish habitat offsetting sites consisting of five components to improve fish productivity and one site to improve fish passage.
Teck Resources Limited receives the Coal Mining Category Award for its unique approach to assess baseline environmental conditions, develop ecosystem/habitat models using historic and current geospatial data, and on-going reclamation monitoring.
The TRCR is also pleased to announce its 2022 Jake McDonald Memorial Scholarship recipients. Behnaz Bahroudi is in her second year of the MSc in Environmental Science Program at Thompson Rivers University (TRU), and her research investigates the influence of topsoil-till cover depths and amendments on ecosystem reclamation and hydraulic infiltration rates for reclaimed tailings facilities at the New Afton mine. Shesley Callison-Hanna is in her second year of the MSc in Environmental Science Program at TRU and is a member of the Tahltan Nation. Her research focuses on the impact of drought on productivity and community composition of an agronomic grassland community at Highland Valley Copper along with a focus on understanding Nlaka'pamux community members perspectives on ecosystem restoration and mining reclamation practices.
In addition, a special award was presented to Kim Bellefontaine, formally from the Ministry of Energy, Mines and Petroleum Resources, to recognize Kim's many large and long-term contributions to the BC Mine Reclamation Symposium.
Photos credit to Krevan Photography
The Tony Milligan Book Award was presented to Jeff Anderson, Melissa Iverson and Ben Pearse of Integral Ecology Group for their paper, "Applications for remote sensing by unmanned aerial vehicles in reclamation monitoring," available here (Applications) that was presented virtually at the 44th Annual BC Mine Reclamation Symposium in 2021.
Mapping by unmanned aerial vehicles is a relatively new tool which is becoming more accessible and with an increasing set of sensors has many potential applications in mine reclamation. This paper discussed the practical application of drone technology and use of the resulting spectral, textural, and contextual pixel information for various reclamation monitoring applications. The paper also provides an interesting case study of the authors own work.
Papers from this 2022 Symposium will be available soon at UBC's eCIRCLE on the Publications page. We would like to thank our TRCR Papers chair, Lauchlan Fraser of Thompson Rivers University (TRU) and his 2022 paper review subcommittee of Jaimie Dickson, Landon Benson, Michael Preston, Anayansi Cohen-Fernandez and  Yihting Lin.
The event began on September 19th with a short course involving a Cross Cultural Awareness Workshop at the St Eugene Golf Resort & Casino.  First Nations and Indigenous communities are deeply impacted by the mining industry, including when planning for closure and reclamation. As a former residential school that was reclaimed and restored, St. Eugene offers a learning experience like no other. From a very dark chapter in our history, it has been transformed into a source of hope, strength, and pride. St Eugene's Indigenous Culture Awareness Training centres upon recognition, reconciliation and the building of cross-cultural relationships. It is a multi-faceted workshop that examines the legacies of the past, identifies jurisdiction, and generates solutions for economic self-sufficiency and respectful and just relationships with Indigenous groups.
Then on September 20th, a full day field tour of the Greenhills Coal Operation was conducted by Teck Coal via bus transportation.
On September 21st and 22nd, Technical Paper presentations were observed in the Kimberley Conference Centre with paper authors and a panel discussion occurring regarding reclamation innovations.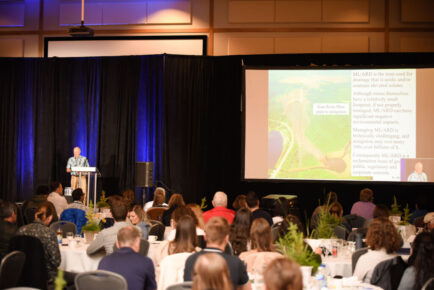 An exhibitor area was included at the Kimberley conference centre to discuss products or services from various companies:
Student posters were presented by TRU students:
More than 250 people attended the hybrid symposium including more than 150 in person at the Kimberley Conference Centre which included Government staff, biologists, engineers, students and representatives of Indigenous nations.
Congratulations to all the Winners.
Thanks so much to our conference facilitator Aevias for a well organized day and the many sponsors that helped the TRCR.
We will see you next year, for the 46th Annual Mine Reclamation Conference.