The BC TRCR Committee is pleased to announce that the action-packed virtual September 23, 2020 event was a great success. A press release: 20200923-NR1-TRCR-FINAL was sent out to media, announcing the winners of the best Paper Award from 2019, student scholarships and of course, the Mine Reclamation Awards.
The Jake McDonald Annual Mine Reclamation Award was presented to Taseko's Gibraltar Mine for its programs centered on collaborative research. "The company was able to demonstrate innovation in techniques and in research that expand on insight into lesser studied ecological communities in reclamation," noted awards subcommittee chair Tim Antill. "In addition, the company has demonstrated a collaborative approach with the local Indigenous community that pairs both traditional and scientific knowledge and communication." One area in which Gibraltar is being recognized is for is its research and programs related to the structural development of soil microbial communities, research that builds off the 45 years of reclamation at Gibraltar and includes partners including BCIT, Simon Fraser University and Mitacs. In addition, the company has demonstrated a collaborative approach with local Indigenous communities that pairs traditional and scientific knowledge and communication through the Fraser River Salmon Sampling Program, a partnership with Xatśūll First Nation and Northern Shuswap Tribal Council to assess the safety of eating fish caught at traditional sites.
Two companies received category awards. Orca Sand and Gravel received a Sand and Gravel Category Award based on its planning and implementation of reclamation including its consideration of climate change. Teck Metals Ltd. received a Metal Mining Category Award for the successful implementation of its Lower Mine Yard groundwater interception systems.
The TRCR is also pleased to announce its 2020 Jake McDonald Memorial Scholarship recipient. Keenan Baker, a Bachelor of Natural Resource Science student entering the fourth year of study at Thompson Rivers University, is conducting research on restoring native grass species to mine tailings sites that have been planted with aggressive growing agronomic vegetation.
The Tony Milligan Book Award was presented for the best paper delivered at the previous year's BC Mine Reclamation Symposium in Kimberley. Dr. Dustin Rainey of the Yukon Government was presented the award for his paper, "Geochemical challenges associated with water treatment at abandoned or neglected mines in southeast Yukon."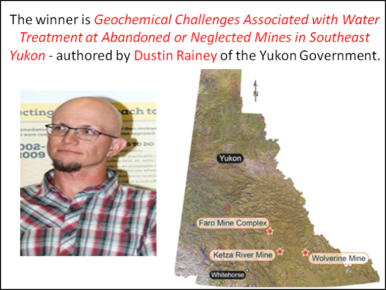 Congratulations to all the Winners.
In addition, preceding the Symposium event, on September 16th, 2020 we also hosted a half day virtual short course on the topic of: Integration of Engineering and Ecological Principles through Geomorphic Landform Design. All participants received a link to view the workshop.
During the virtual event on the 23rd, the BC TRCR hosted a student poster session for undergraduate and graduate students from a BC post-secondary institution or conducting their research in BC in the field of reclamation. The three student posters were uploaded for viewing prior to the event and a live presentation and Q and A session with two of the students was held online. Brandon Williams – presented  "Reclamation & Reconciliation: Using traditional Indigenous knowledge of prescribed fire to enhance ecosystem reclamation" and Shantanu Dutt – presented "Biological Soil Crusts for Reclamation of Mine Tailings" which he researched at the Gibraltar TSF.
A total of 300+ participants were registered including 16 free registrants (thank you to our sponsors to allow us to increase the number) from Community and First Nations members who all watched and had questions and answers provided by speakers at the live symposium from 830 am to 4 pm. The Agenda included a preceding Indigenous Peoples Acknowledgment and Keynote talk regarding the Tahltan people and their relationship to mining from Nalaine Morin. Seven technical sessions were held throughout the day interspersed with four excellent  virtual mine tours using drone footage.
An inventive Happy hour and trivial pursuit session just after lunch was hosted by Tree Time Services with their inimitable host, Michael Cavers. This was truly a nice, humorous break from the day long session including 90's TV show and native species (trees of course) questions.
Thanks so much to our conference facilitator Aevias (especially Missy, Fred and Michelle) for a well organized day.
We will see you next year, if possible in Kimberley,BC for the 44th Annual Mine Reclamation Conference.