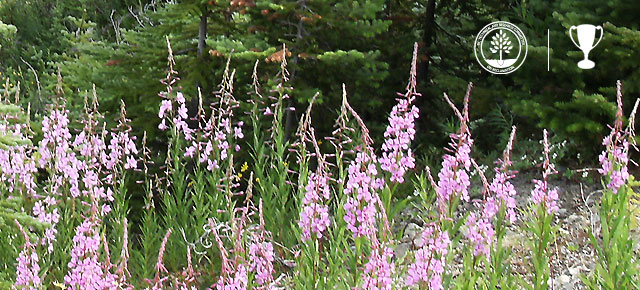 SUMMARY/REPORT OF THE AWARDS SUBCOMMITTEE
2011 Presentation of the 2010 Mine Reclamation Awards
Presented at the Reclamation Awards Reception
November 30th, 2011, Vancouver, British Columbia
View / Download: Related News Release  |  Award Presentation
INTRODUCTION
Thirty five years ago, the British Columbia TRCR established a Reclamation Award to recognize outstanding achievement in mine reclamation in British Columbia. In addition to this major award, the committee may also recognize reclamation successes through category awards for metal mining, coal mining, sand and gravel, quarries, placer mining and mineral and coal exploration.
The awards may recognize work of major or minor extent, and may be the result of a group of people or a single person's activities. These awards are assessed based on:
quality in research
innovation in techniques
quality of work undertaken,
extent of land reclaimed
work of a high standard that has been conducted over a number of years.
This year the awards committee received 10 nominations in 5 categories. However, the nominations were assessed based on results achieved. The committee commended the efforts to date and looks forward to seeing future nominations from these and other sites that describe continued efforts and reclamation results. This does not reflect an absence of good work, but rather the need for continued efforts, and the time required until results are clearly demonstrated.
ANNUAL BRITISH COLUMBIA JAKE MCDONALD RECLAMATION AWARD
The recipient of the 2010 British Columbia Jake McDonald Mine Reclamation Award was Northgate Minerals for their outstanding reclamation achievements at Kemess South Mine.
The Kemess South Mine has won the reclamation award in the Metal Mining category for the past two years, and was also last year's winner of the BC Mining and Sustainability Award. The work completed to date at Kemess continues to represent one of the largest scale reclamation projects currently being implemented in British Columbia.
The mine is located in remote, mountainous terrain, approximately 300 km northwest of Prince George. Kemess South is situated in the subalpine, where vegetation growth is limited by severe climate and minimal soil resources. Approximately 600 hectares of disturbed area requires reclamation to an end land use objective of wildlife habitat. To date, Northgate has completed progressive reclamation on approximately 250 hectares focusing on surface preparation and revegetation on the tailings dam, tailings beach, borrow pits, and the main waste rock dump.
Northgate has remained committed to the belief that landscape preparation is key to facilitating natural processes that will lead to self-sustaining ecosystems. At the site, this approach has involved the placement of large volumes of growth medium and a rough and loose surface preparation. Native species have been used extensively in planting efforts. Limited availability of these species for purchase has lead the company to conduct annual native seed collection campaigns. To date, over 750,000 stems of various native species have been planted around the site.
Northgate was also being recognized for its exemplary demonstration of adaptive management practices. Reclamation strategies, particularly in challenging areas, are not always successful on the first attempt. At Kemess, reclamation work is being monitored and measures have been taken to modify plans to address less effective practices. For example, extensive surface preparation was completed on the tailings dam between 2008 and 2010 with a goal of minimizing erosion and encouraging ingress of native vegetation. This included construction of water diversion features, rough and loose preparation and coarse woody debris placement on slopes. However, despite stabilization efforts, rainfall events in the summer of 2010 caused erosion rills and gullies to form on the main dam slope. Northgate recognized that efforts to date were not sufficient to control erosion and so during past summer further work was done. Rills and gullies were mapped out and these features were armoured using 4000 burlap sacks filled with barely-infused peat to provide filtration for surface flows and organic matter to the dam face. The 30 hectare area was then hydroseeded with a high elevation native seed mix to enhance vegetation establishment for erosion control. The seed mix included endomycorrhizae-infused compost tea to provide nutrients for conifer establishment. This area will continue to be monitored to make sure reclamation objectives are being met.
Other key work conducted at Kemess South this year included ongoing construction of the closure spillway and reclamation of the tailings beach. The beach has been armoured with rip-rap to prevent erosion and exposed areas have been covered with overburden and planted with a mixture of lodgepole pine, subalpine fir and white spruce. Areas adjacent to the spillway have been progressively contoured and made rough and loose in preparation for planting.
Reclamation of borrow areas has been carried out since 2005 and reclamation is largely complete. Ongoing vegetation monitoring has lead to additional planting and the use of bioengineering techniques such as live pole staking and wattle fences. Borrow 10 has undergone extensive recontouring, surface preparation and drainage control work in 2010 and live pole drains were installed in 2011. Preliminary observations indicate that this work has been very successful in controlling water flow and stabilizing the slopes.
Work has also continued at the main waste rock dump. Full-scale resloping commenced in 2009 and surface preparations were completed. Vegetation trials were also started on lower slopes of the dump in 2009 to assess the best planting density for promoting development of self-sustaining ecosystems. In 2010 and 2011, 106,000 lodgepole pine seedlings, 65,000 willow plugs, 36,000 white spruce, 40,000 arctic lupin and 18,000 alpine milkvetch were planted. All conifers were planted with fertilizer tea bags and the entire surface has also been broadcast seeded by representatives of the Takla Lake First Nation. The majority of the dump has now been resloped and planted, with the only remaining areas to be reclaimed being the access roads and refuse landfill.
A very significant activity that was completed during 2011 was the rehandling and backfilling of 7.6 million tonnes of potentially ARD generating waste rock into the open pit for permanent subaqueous storage and ARD prevention. After relocation, the dump area was recontoured to facilitate drainage and a thick overburden layer was applied. The area has been planted with pine, spruce, arctic lupine and willow, and the entire area has been broadcast seeded with a native species mix.
Northgate continues to demonstrate a strong ongoing commitment to achieving reclamation success at Kemess South. Work being completed is reducing the site's liabilities and setting a benchmark for reclamation efforts at B.C. mines. Throughout this work they have involved First Nations and also supported graduate student research. Solid results reflect the innovative and hard work of staff and management at this site, in particular Harold Bent, Georgia Lysay and Jennifer McConnachie.
Harold Bent was called to come forward and accept the 2010 British Columbia Jake McDonald Mine Reclamation Award on behalf of Northgate Minerals Corporation.
2010 SAND AND GRAVEL AWARD
The award for outstanding achievement for reclamation at a sand and gravel operation was awarded to Lafarge Canada Inc.'s Abbotsford Gravel Sales Ltd.
In 2006, the gravel reserves from the Abbotsford Gravel Sales operation were depleted. Around the same time, it was also recognized that there were limited legal clean fill locations in the lower mainland that were available for the construction industry. Too often this waste was being disposed of on highly valuable agricultural land.
Lafarge Canada partnered with the City of Abbotsford to help solve this problem by creating a legal clean fill disposal site at their mined-out gravel operation. This partnership solved a significant problem for construction contractors and allowed city officials to have more control over where fill was being dumped, while also providing a reclamation solution to Lafarge.
Since this gravel operation was in an area zoned for industrial use, there was no requirement to reclaim the site back to agricultural land, but Lafarge recognized another opportunity, this time for partnership with the Agricultural Land Commission. In 2008, the company proposed the idea of working with neighbouring property owners to mine sand and gravel reserves in the surrounding 85 acres. These properties would be mined and backfilled successively using a staged approach, with progressive reclamation back to Class A agricultural use. In addition, the site of Lafarge's initial 30 acre gravel pit would be reclaimed to agricultural standards. This not only ensured no net loss of valuable agricultural land, but also created a net benefit.
During the process of acquiring approval to mine the new gravel reserves, Lafarge completed wildlife, fisheries and water quality studies as well as undertook consultation with local stakeholders. Reclamation activities involved clean fill disposal back to within 1.6 metres of grade and then applying an 80 cm thick layer of sand for drainage and 80 cm of topsoil for growth medium.
To date, 7 acres of previously mined land have successfully produced their first winter wheat crop and an additional 10 acres of land were planted and seeded this fall. The operation is now progressing onto parcels of neighbouring properties in 5 acre increments using these methods that will establish a domino-effect of extraction and reclamation.
Aggregate resources will always be required for development and maintenance of infrastructure. This operation was commended for its innovative thinking for solving problems, for seeking out strategic partnerships and for its progressive reclamation achievements. Kevin Tokarek, Bob Esau and Brad Kohl were called to come forward and accept the Award for outstanding Sand and Gravel Reclamation at Lafarge's Abbotsford Gravel Sales.
2010 METAL MINING AWARD
The Award for outstanding achievement for reclamation at a metal mine was presented to Thompson Creek Mining Ltd. for work at the Endako Mine.
The Endako Mine is an open pit molybdenum mine located in central British Columbia, midway between Prince George and Smithers. Mining activities at Endako began in the mid 1960's, and since that time, approximately 1600 hectares of mining disturbance has occurred. The reclamation goal for the site is to return the land to a variety of wildlife habitat similar to the surrounding areas. To date, progressive reclamation activities have focused on the 640 hectares of tailings management facilities, of which 480 hectares are in various stages of reclamation.
The key challenge with reclamation on the tailings embankments at Endako is the need to establish sustainable vegetation growth on steep sandy slopes that have poor moisture retention and very limited nutrients.
Beginning in the 1980's, a variety of reclamation techniques that were developed through research trials, have been applied to the embankments. Hydroseeding was completed using a site-specific mix of drought tolerant grasses and legumes and a heavy application of wood fibre. The wood fibre was an important addition to increase moisture retention in the well drained sand and for the establishment of a moss layer. The development of a moss layer also increased moisture retention and helped to stabilize the embankment surface.
In 1990 the North Dam of Tailings Pond 1 was planted with lodgepole pine, hybrid spruce, Douglas fir, and eastern larch. This site is now exceeding productivity objectives with 91% total vegetation cover. Trees are producing viable cones and young trees can now be found among those planted in 1990. The ground cover in these areas has been naturally invaded by a number of species, while at the same time the agronomic species are receding. An impressive and healthy ground cover of lichen, mosses and fungi has established and indicates progression towards a sustainable forest ecosystem.
Endako mine has also demonstrated reclamation success with direct placement of soil salvaged from other areas of the mine. In 1999, reclamation staff seized the opportunity to salvage soil, including root systems and woody debris, for direct placement in areas that were ready for reclamation. The natural seed bank in the soil allowed these sites to achieve natural regeneration of shrubs and deciduous trees. During the following year, lodgepole pine was planted to address the absence of conifers. Notably, this area was exceeding productivity objectives within 8 years.
Direct placement of salvaged soil is now part of standard practice for reclamation staff at Endako. The most recent success was salvage and placement of soil over a 30 hectare area of Tailings Pond 2 in 2010. Applying the learning's from the earlier work, care was taken to include organic material, woody debris, root systems and tree stumps in the salvage efforts. Piles of soil were placed on the pond area and the dozer operator was instructed to prevent compaction by making only one pass over the material during spreading. This technique also helped established desirable micro-environments as a result of uneven spreading. Within weeks, natural vegetation was emerging. Douglas fir was planted in 2010 and 2011 and the site is already showing signs of significant natural regeneration.
Endako was commended for recognizing the significant value of direct placement of salvaged soils. The results are impressive and represent good lessons that should be applied to this and other sites wherever possible.
Barb Riordan was called to come forward and accept the award for outstanding Metal Mine Reclamation at the Endako Mine, on behalf of Thompson Creek Mining Ltd. The TRCR also recognized Barb Riordan for her personal commitment to reclamation success of tailings areas at Endako.
LAST YEAR'S WINNER
It is customary to present a keeper trophy to last year's recipient of the Annual British Columbia Jake McDonald Mine Reclamation Award, for the safe return of the coveted "Jade Trophy".
Last year's winner was Lehigh Materials for outstanding reclamation achievements at the Sechelt Mine. The Sechelt Mine was recognized for its innovative and sustainable approach to reclamation, including strong and lasting partnerships with local communities and First Nations. Sophie Mullen was called upon to accept the keeper trophy on behalf of Lehigh Materials.
2011 TRCR Members
(L-R) 2011 TRCR Committee: Todd Wambolt, Gibraltar Mine; Ryan Todd, Western Coal, John Errington, retired MEM; Carla Fraser, Teck Coal, Barb Riordan, Endako, Kim Bellefontaine, MEM; Tania Demchuk, MEM, Craig Stewart, MOE 2012 TRCR Chair; Kim Bittman, Taseko Mines; Ben Chalmers, MAC and 2011 TRCR Chair; and Angela Waterman, Mining Association of BC.

Missing: Bill Price, NRCan, Brenda Dixon, NRCAn, Jaimie Dickson, Highland Valley Copper; Wendy Gardner, Thompson Rivers University, Dirk Van Zyl, UBC.
2011 Tours