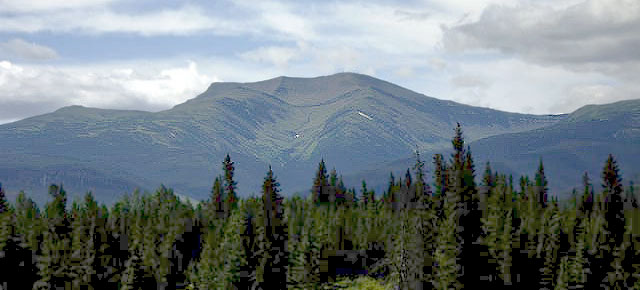 SUMMARY/REPORT OF THE AWARDS SUBCOMMITTEE
2004 Presentation of the 2003 Mine Reclamation Awards
2004 Mine Reclamation Awards Presented at the 28th Annual Mine Reclamation Symposium
June 23rd, 2004, Cranbrook,  British Columbia.
INTRODUCTION
Twenty-eight years ago, the British Columbia Technical and Research Committee on Reclamation established a Reclamation Award to recognize outstanding achievement in mine reclamation in British Columbia. In addition to this major award, citations are given to recognize merit in mining reclamation.
The work on which the awards are based may be major or minor in extent, and may be the result of a group or a single person's activities. These awards may recognize:
quality in research,
innovation in techniques,
quality of work undertaken,
extent of land reclaimed, or
work of a high standard that has been conducted over a number of years.
This year the TRCR received a total of six nominations in four categories. Tonight we will pay tribute to the newest recipients of these reclamation honours. 
LAST YEAR'S WINNER
Before the presentation of this year's Reclamation Awards, it is an annual tradition to present a "keeper trophy" to last year's recipient of the British Columbia Mine Reclamation Award, for the safe return of the highly prized "jade trophy". Last year's winner of the Award was Kinross Gold for its exceptional program at the QR Mine. The Keeper trophy was sent to Kinross.
2003 PLACER MINING CITATION
The Citation for outstanding achievement for reclamation at a Placer Mine was awarded to Westrail Construction Limited for their exceptional reclamation efforts at their placer mine on Ruby Creek.
Westrail Construction Limited completed an outstanding reclamation effort during July last year. They not only completed all the required reclamation work, but staff reported that it was also a pleasure working with the company while they were mining. Their positive attitude about doing the right thing environmentally was refreshing.
The company worked on ensuring long-term stability of the exposed waste dump slopes by recontouring them to a slope angle of 2:1, the access into the mining area was totally recontoured, all structures, equipment and miscellaneous debris were removed at the end of mining, a comprehensive water diversion ditch was constructed and then left intact, the pit edges were rounded and contoured, all areas disturbed by exploratory surface drilling were levelled, and a large soil/rock obstruction was established along the pit perimeter to effectively mark the pit boundaries.
2003 METAL MINING CITATION
The Citation for outstanding achievement for reclamation at a Metal Mine was awarded to Teck Cominco Metals Ltd. for outstanding achievement at the Sullivan Mine.
Over its lifetime, from 1909 until late 2001, the Sullivan mine produced 150 million tonnes of ore, 9.75 million tonnes of waste rock and float rock and 94 million tonnes of tailings, all of which generates acid rock drainage.
Prior to 1960, no one worried about acid generating wastes and waste disposal sites were selected for their convenience without any consideration for long-term environmental impacts. As environmental awareness grew, Cominco started tackling its problems. Bob Gardiner, who recently passed away, led a group from Trail to determine the best way to reclaim tailings and waste rock, looking at growing vegetation directly on waste, capping with glacial till, adding large quantities of limestone and evaluating the metal uptake in vegetation. In 1979, Cominco commissioned their leading edge water treatment plant. By 1991, much of the revegetation research had been completed and Cominco submitted its Decommissioning and Closure plan. At the same time, the Sullivan Public Liaison Committee was formed and Cominco worked with regulators and the community to work though all the elements of mine closure and to reach consensus on the best way of closing down the mine.
This citation recognizes the continuing closure activities, which have been carried out since Sullivan won the mine reclamation award in 1996. Sullivan has continued to improve its collection systems to capture contaminated drainage and treat all effluent. They have now revegetated 659 hectares, much of it based on Bob Gardiner's research trials, which have led to the soil cover system for tailings and gypsum ponds that sustains vegetation, reduces water infiltration and prevents the upward migration of contaminants into both the vegetation and growth media.
2003 COAL MINING CITATION
The Citation for outstanding achievement for reclamation at a Coal Mine was awarded to Elk Valley Coal Corporation for work at the Fording River Mine.
Fording River Operations is a world-class coal mine that has operated in British Columbia since the early 1970's. The Fording River valley supports substantial populations of large ungulates and the reclamation program is designed to replace a range of habitat conditions, including elk winter range on exposed slopes with south and southwest aspects. Additionally, the Fording River required realignment to allow mining to proceed and the fisheries values of the river were recreated in the new channel. Later, mining activities also required the diversion and replacement of Henretta Creek after mining of that valley was completed. This provided Fording River Operations with new challenges in restoring a high elevation mountain stream with fish habitat values.
From the beginning of mine development, Fording River Operations has been very committed to its requirement to return lands disturbed by mining to equivalent productivity and in 1969, prior to the opening of the mine, began to conduct research into the development of optimal reclamation techniques. Much of this early work was carried out under the guidance of Bob Gardiner who many of us were pleased to have been associated with for many years. Early research addressed the most immediate concerns related to reclamation including erosion control and provision of forage and browse for wildlife species. Field studies were initiated in 1973 when the first waste dump sites became available for revegetation. These studies were later expanded to assess the effects of slope and soil materials on the productivity of vegetation established on spoils at various elevations.
This work has continued to date, with recent results providing technology to recreate high elevation habitat that provide both the shelter and browse necessary to support large ungulates throughout the harsh winter conditions. This integrated research program has built on previous reclamation research undertaken at the mine site, and has improved knowledge on species selection, establishment timing, and techniques to allow successful reclamation where more conventional approaches have not produced desired results. This increased knowledge will translate into an improved ability to re-create specific habitat elements, as more high-elevation areas on the mine sites become available for reclamation.
To date, Fording River Operations has successfully reclaimed approximately 600 ha of mine disturbance to specific land uses including moderate yield forestry, and both winter and summer large ungulate habitat. Additionally, they have restored the fisheries values to the diversion of the Fording River and to the
re-established Henretta Creek. The reclamation activities at Fording River Operations have included resloping of over 450 hectares of waste dumps from 37 degree slopes to 28 degrees. The reclamation of the area has included the planting of 657,000 tree and shrub seedlings.
The progress of these reclamation activities is continually monitored with fisheries, wildlife and forestry assessments to ensure the restoration meets their goal of returning lands disturbed by mining to equivalent productivity. This comprehensive and successful program sets a very high standard for reclamation in this province and is very deserving of this citation.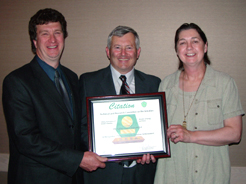 2003 MINERAL EXPLORATION CITATION
The Citation for outstanding achievement for reclamation at a Mineral Exploration site was awarded to Newmont Exploration of Canada Limited for their work on the Trout Lake Molybdenum property.
Newmont's Trout Lake property, located in the Slocan Valley, was an advanced exploration molybdenum property in the late 1970's and early 1980's, which had sat idle for a number of years, waiting for a development decision. Exploration, in addition to drilling, included a development portal equipped with a narrow gauge rail system, underground ventilation and dewatering system. The site consisted of a large number of ore piles, a development waste rock dump, remnants of a portable crusher plant as well as camp and maintenance facilities. Issues with the property included safety to humans and wildlife, metal leaching and acid rock drainage, hydrocarbon contamination and water management.
The novel approach to control metal leaching and ARD was to compact and encapsulate the potentially acid generating material into a mound, thereby minimizing infiltration and oxidation. Additional site work included portal closures, water diversions and French drains, hydrocarbon cleanup, recontouring of development waste rock and removal of wood structures, rail steel and ties, and concrete footings.
The site has now been fully reclaimed and has been optioned by a new owner who are inheriting a site where past environmental liabilities have been largely eliminated.
    
2003 ANNUAL BC JAKE MCDONALD MINE RECLAMATION AWARD
The recipient of the 2003 British Columbia Jake McDonald Mine Reclamation Award was Bullmoose Operating Corporation for its work at the Bullmoose Mine.
The Bullmoose open-pit coal mine is located in the eastern foothills of the Rocky Mountains, approximately 45 km west of Tumbler Ridge, B.C. The mine produced metallurgical coal for twenty years, from 1983 until April 4th, 2003, when production ceased. Mining activities at Bullmoose have resulted in the disturbance of 788 hectares at the mine site. This area has been progressively reclaimed to an end land use of wildlife habitat, to match the pre-mining capability of the area.
In addition to the progressive reclamation conducted throughout the mine life, major reclamation in preparation for closure began in 2002, with the remedial resloping of a substantial area of waste rock dumps in the subalpine mine area. This resloping was undertaken in response to noted reclamation challenges encountered on these high-elevation sites, and was conducted to improve reclamation success on these areas. These efforts continued on a larger scale in 2003, which saw 8,654 equipment hours devoted to reclamation, resulting in the recontouring of 207 hectares of disturbed area, and an additional 8 ha of exploration roads. The 2003 reclamation program also included initial revegetation treatments (seeding and fertilizing) on 184 ha, and planting of almost 90,000 tree and shrub seedlings.
By the end of 2003, 82% of the total disturbance footprint had been revegetated, with over half of this work accomplished in 2002 and 2003. Additional substantial allocation of effort in site preparation and revegetation has been undertaken or is planned for 2004, to complete as much of the remaining reclamation as possible.
Bullmoose has also been active and invested significant effort in undertaking and supporting reclamation research and monitoring programs, designed to evaluate and optimize reclamation success on the mine site. Environmental personnel at the mine have utilized their long history of site-specific research and assessment work to continually improve operational reclamation, and to identify areas where remedial reclamation is required. A major effort undertaken by the mine site in preparation for closure was to conduct an assessment of existing reclamation, using newly available remote-sensing technology to provide information on revegetation and productivity across the entire mine footprint.
These activities demonstrate Bullmoose's commitment to ensuring successful reclamation on their property. In the preparation-for-closure and post-closure period, Bullmoose has devoted all possible resources to timely reclamation of remaining disturbances, to ensure that this land is returned to a productive state as soon as possible. They have further backstopped these resources with comprehensive research and assessment programs, to evaluate their reclamation performance and make certain that their reclamation efforts are appropriately targeted and have a high probability of success. It is on this cumulative history of reclamation, and in particular on Bullmoose's exemplary reclamation efforts in the preparation-for-closure and post-closure periods, that they are being awarded the 2003 B.C. Mine Reclamation Award.
2004 TRCR Members
The B.C. Technical and Research Committee on Reclamation is comprised of representatives from the mining industry, the academic field and Provincial and Federal Governments. The picture below is of those members present at the symposium in Cranbrook in 2004.
Several Thank You's were also presented during the awards banquet. The first was to a long time supporter of the TRCR and their conferences and who has very recently retired from the Government ranks, Mr. Ray Crook.

Throughout the 2004 Symposium, tributes, praise, thanks and toasts were raised to the memory of Robert (Bob) Gardiner who passed away in 2004.