SUMMARY/REPORT OF THE AWARDS SUBCOMMITTEE
2014 Mine Reclamation Awards
 The annual reclamation awards were not presented this year due to a lack of nominations in the various categories.  We are aware of good reclamation work being completed across the province, work that shows substantial planning and innovative thinking, which will provide for strong future results. However, after 37 years of strong nominations only two nominations have been received for 2014. The TRCR believes that this may be a reflection that industry has been busy with ongoing reclamation work, which may not yet be at a stage to be show cased.
The keeper trophy for the safe return of the Jake McDonald Jade award from 2013 was presented to Steven Hilts of Teck Resources for the Pinchi Mercury Mine reclamation program which was the focus of the Symposium field trip this year.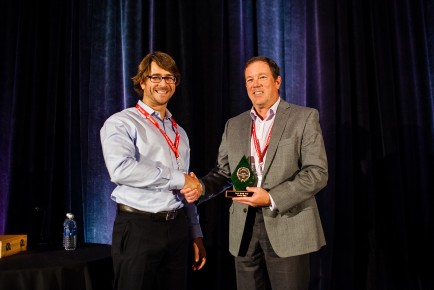 View / Download: Press Release 2014 TRCR
2014 TRCR Members
(L-R) TRCR Committee:  Bill Price, NRCan; Nicole Pesonen, Walter Energy and 2015 Chair of the TRCR; Kim Bittman, Taseko Mines; Jonathan Buchanan, AMEBC; Angela Waterman, MABC; Ryan Todd, New Gold and 2014 TRCR Chair; and Wendy Gardner, Thompson Rivers University.
Missing: Dirk VanZyl, UBC; Carla Fraser, Teck Coal; Darren Cowan, Hillsborough Resources; Jaimie Dickson, Highland Valley Copper; Craig Stewart, MOE; Kim Bellefontaine, MEM; Ben Chalmers, Mining Association of Canada, and Tania Demchuk, MEM.